Refer a Friend to RideAlly
Share it on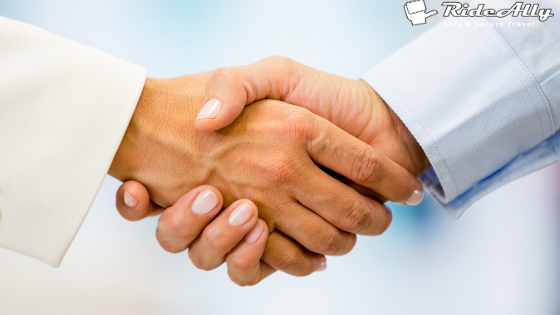 Make your loved ones choose safe and secure travel option. RideAlly offers the most economical and quality cab services. By referring your friends and family, you get amazing discounts on your rides by earning reward points. What better way to spread the word of trust about RideAlly?
How it Works?
Earn up to 5000 Points by inviting your friends to RideAlly. You will get 50 Reward Points once your friend Signup and verifies the mobile number with RideAlly App.
Steps for Referral invite:
Click on 'Refer Friends' button and share with your friends on Whatsapp etc
Your friend needs to use the referral code while Signing Up with Android/iOS app
Once your friend completes SignUp and verifies Mobile number then you and your friend both will get 50 Reward points each
These points can be used while Booking Cabs for Airport, Package and Outstation.
How to use Reward Points?
While booking a cab, you will get an option of 'Use My Rewards' below the Vehicle list in case of Airport and below 'Pricing' in case of Package and Outstation
You may need to select the checkbox to use the Reward points
You can get a 10% discount on the booking (excluding Toll, Parking, Permit charges) by using reward points. E.g.
a) If you have 500 reward points, and your booking amount (excluding Toll, parking, permit) is 1000 Rs than you can get a discount of 100 Rs.
b) If you have 80 reward points and your booking amount (excluding Toll, parking, permit) is 1500 Rs. then you can get a discount of 80 Rs.
c) If you cancel the booking, your reward points will be credited back to you.
Follow us on