Know Your Ally – The Silent Hero, Who is always cool despite unruly customers at times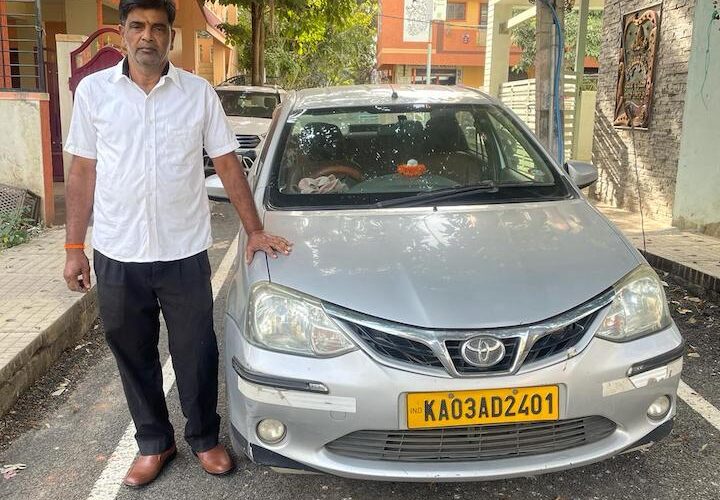 A group of drunk customers started kicking and abusing me for fun and insulted me inspite of my age !!!
Once, a Single drunk young lady customer, wanted to smoke inside the car and lit the cigarette. When he requested her to not to smoke inside the car, the lady started shouting at him and did not stop smoking. Inspite of his age (57 Years Old), Mr. Rajendra Babu, chose to remain silent and be cool like cucumber in such situations.
Early life of Rajendra Babu
Rajendra Babu, a talented Kabaddi & Volleyball player has won many cups and tournaments for his Government Junior College in Chikkaballapur.
He believes in "No Pain, No Gain" and believes in building his own destiny rather depending on luck. He is also a great believer of God.
Early accident that shattered his regular life
He worked for 2 years in Karnataka Telecom Limited from 1988 and did few other stints. Later in 1993, he bought 2 trucks with heavy loans after seeing his friends being successful in transport business and started driving trucks.
Life was going smooth and he had hired two drivers, who worked for him very religiously. As years went by, both his trucks met with accident within few months interval, one by one. This led Rajendra Babu to a huge loss where he did not get any support from insurance companies and the society around denied to help him. These truck accidents not only shattered his dreams but also his whole family, his mental and financial peace.
In year 2000, he came to Bangalore leaving his family in his native and worked for 9 years in a well reputed travels company for survival.
Once an owner, always an owner
Re-energizing his passion to become an owner again, he decided to buy a car on his own, obviously with loan and started to drive for customer duties. Later, he attached with one of the cab aggregators and in year 2010, he moved to Bangalore and settled with his family.
He lives in his own house and his wife is a home maker. His son has completed B. Com. and is currently working in a reputed construction company and his daughter has recently completed her MBA.
Covid-19 wreak havoc
During covid lockdown, there was no or less income for a big family and also had to pay fee for his children education. He had to again borrow money at high interest.
He started working for a hospital as driver for 15k salary during covid peak by risking his life, carrying covid patients and also helping people to provide food items for patients.
As expected, he got mild covid and with the help of his brother Naresh Babu, who was working in a govt hospital as senior pharmacist, Rajendra Babu got himself cured by self quarantining at home and luckily no one in family got affected.
A silent hero who helps everyone
Rajendra Babu is a man known for his kind heart and caring at all times. Once, he helped a family to take their luggages to a flat in 3rd floor. He always ensures to keep luggage in car and always helps senior citizens in wheel chair to get inside the cab and folds the wheel chair and keep inside the cab.
He gets regular appreciations from the customers. Customers feel comfortable and often interacts with him. Some of them share their personal stories and seek his advice due to his old age. He takes care of his customers like his own kids till they reach their destination.
About "Know Your Ally (KYA)" Series
RideAlly has worked with many partners (our allies or drivers) in last 5-6 years. Many such partners are wonderful human beings and have been serving customers with great sense of service. It is our attempt to honour such human beings and bring to the world their story.
It is also to bring positivity about driver community which gets harsh treatments from few customers due to their biased opinion about drivers. There are bad apples in every community, every region, every culture and one should not hold bad impressions about whole community.
Do read our previous story of Bhimappa who charms with his dance moves, his struggles and how he ensures great service to customers.