Know Your Ally – Bhimappa who charms with his dance moves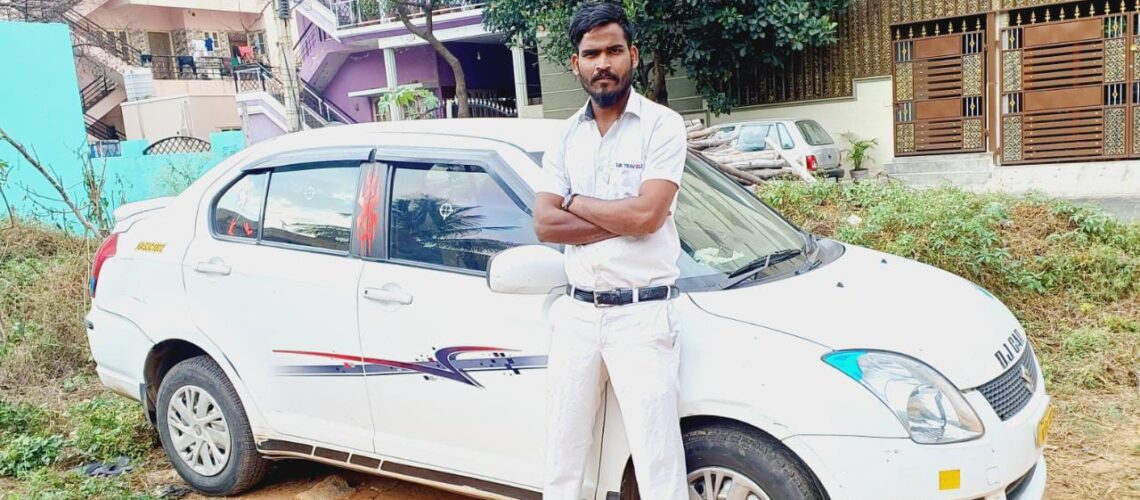 In this series of Know Your Allies (KYA), we bring to you story of Bhimappa, the most energetic and efficient cab chauffeur who goes extra mile in making people reach Airport (or anywhere) on-time, every time, safely with his uncompromising efforts.
Start of a life
Bhimappa belongs to a beautiful place called Kunikeri Thanda, Koppal district of Karnataka who lives with his family. His elder brother, Shekappa, was the only breadwinner for the entire family. Understanding the fact that he has to take certain responsibilities in his family & also to give his brother a supporting shoulder, Bhimappa decided to work at early age. He took a leap of faith by coming to Bengaluru, Karnataka, which is the hub for job seekers & young entrepreneurs.
Struggle to become a driver
Initial days, he worked in a petrol bunk & bakery. He got inspired by his elder brother, who is also a driver, to chose this driving field. Driving being his biggest passion, he decides to go back to his native village and got into the seats of tipper trucks for few months. Looking at his sincerity, his elder brother arranged a second hand car for Bhimappa in leasing. He drove for few cab aggregators, with a burden to settle the lease amount. Unfortunately, the driver chapter came to a disastrous pause in just 8 months due to lockdown for Covid-19. With his dreams shattered, he went to his native village and as days went by, the whole family struggled without job which led to a financial crunch. Finally, he worked in farm lands and sugarcane cutting work for the daily needs and survival.
Is he a good driver? Does people like his service?
Bhimappa focuses on being a 5-star graded driver, like, many other drivers. His way of giving uncompromising service to customers is by greeting with a "Namaste", switching on the AC, seating comfort adjustment, well groomed always & does his vehicle check up regularly.
His motto is always to respect customers, talk to them in a polite way, care for their needs, taking responsibility to help reach the customers safely & on time to airport so that they don't miss their flight and being punctual for every single drives, which is assigned.
Talent from within
Bhimappa is passionate for dancing too & has performed as a back dancer in movies with big names such as KGF 1, Masterpiece, Jaggu Dada. There is always a big "YES", when it comes to entertainment. He is good in creating Instagram reels. It was understood that he is a favorite driver among cab users, garage guys etc. because of this talents, skills & innocence. Few customers have even hold the camera for him on their personal interest to create an Instagram reels for him. One such customer recorded video is below:
Some interesting conversations with Customers
Bhimappa is very innocent & interactive that one of the media lady became his friend and in fact, shared her contact number and volunteered herself to be of any help in any aspects. Another lady customer said that she got married at very young age and advised him not to marry in early age but eventually, told to get married and settled to lead a happy and fulfilling life.
One male customer said, "Do not run away from your parents by running away with love of your life."
This particular customer was in love with a girl in his earlier days. He eloped with the love of his life and got married against the will of their parents. Now, it has been 20 years and even now the parents didn't accept them back in to their life. They are staying separately and dying to meet their parents and talk to them someday in life. He told Bhimappa that you also don't do these things in life, "I want you to be happy with family and parents" customer said.
Influence on other drivers
Bhimappa has been a wonderful driver throughout the journey so far! Bhimappa's story has been an inspiration for many other cab drivers who follows his footsteps now. They have been giving fantastic service to their customers, contributing to a remarkable change in driver behaviour patterns.
About "Know Your Ally (KYA)" Series
RideAlly has worked with many partners (our allies or drivers) in last 5-6 years. Many such partners are wonderful human beings and have been serving customers with great sense of service. It is our attempt to honour such human beings and bring to the world their story.
It is also to bring positivity about driver community which gets harsh treatments from few customers due to their biased opinion about drivers. There are bad apples in every community, every region, every culture and one should not hold bad impressions about whole community.
We would try our best to publish such stories regularly with the hope that it serves the society in positive way.