Cabs for Covid+ Patients and Vaccinations: Updates from RideAlly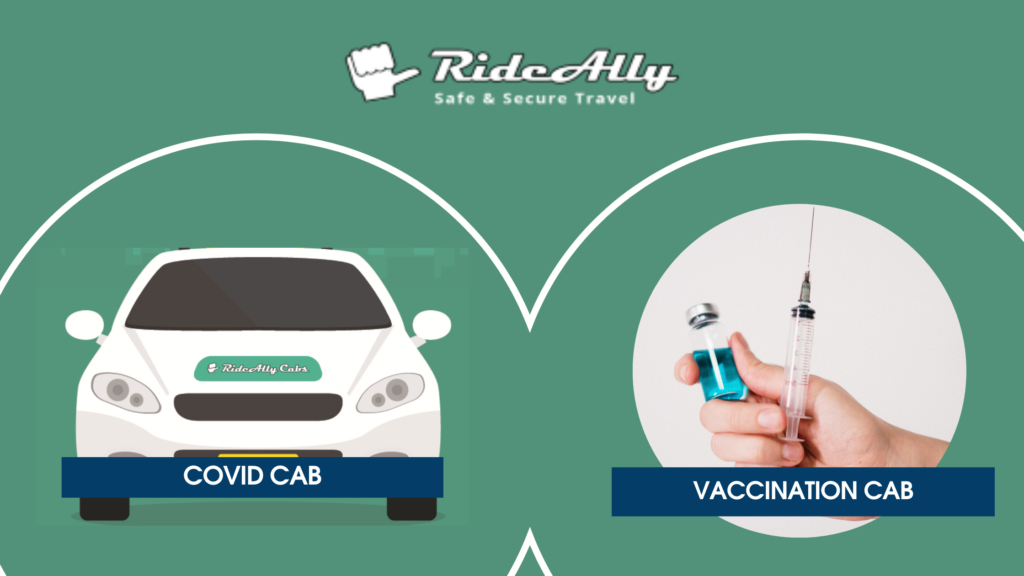 Hi there,
Thank you for your support in spreading awareness about Cabs for Covid Patients. Refer our earlier message to get the context at http://blog.rideally.com/cabs-for-covid-patients-family-from-rideally/
With your blessings, we have:
Served more than 200+ unique Covid+ patients/family in last 2 weeks with full safety measures
Served Many Non-Covid patients for visit to Hospitals for vaccination and other medical reasons
Increased our drivers/cabs and provide services even in 15-30 min at times
Provided services for Airport and Railway Stations as permitted in Lockdown.
Due to marginal decrease in operation costs, we are reducing our prices further for Covid cabs and Vaccinations.
Cabs for Covid+ Patients/family: Our revised price is Rs. 1250 (reduced from Rs. 1500) up to 10kms (covers nearby hospitals), additional Kms at Rs. 75 and waiting charges are Rs. 250 per hour.
Cabs for vaccination or Non-Covid patients: Our revised price is Rs. 750 up to 3 hrs and 30kms (covers waiting time at Hospitals), additional Kms at Rs. 25 and waiting charges are Rs. 200 per hour.
5% GST will be applicable for the ride.
Above price continues to cover PPE kit (for Covid Cabs only), Partition in cabs, Sanitization for each trip, Sanitizer spray in cabs, to manage empty km from/to the patient's location (at times, 25-30 km one way) etc.
Pls note following points:
1) The vehicle is normal Sedan car and no way, can replace an ambulance. It has NO medical equipments.
2) Safety measures: Driver will have PPE kit, Sanitizers and cars have a partition between driver and back seat. Passengers are allowed only on back seats. Vehicle is sanitized after every trip.
3) All payments need to be online and NOT to be settled with driver to avoid physical contact.
4) Min lead time to get the cab is 1 hour.
Another initiative is that RideAlly has decided to contribute 20% of its savings from Covid Cabs bookings to Rotary Bangalore Lakeside Trust for Covid Relief Initiatives.
Do read some nice feedbacks from our customers at Google or on RideAlly pages of Facebook, LinkedIn and Twitter.
We are just one call away and you may call our 24/7 customer care at 080 4600 4600 / 97398 26789 or WhatsApp at 97398 26789 / 74062 18444 to avail of the service.
Always Your Ally,
Rideally Team,
https://rideally.com/apps