Refer RideAlly. Save More In Covid Times.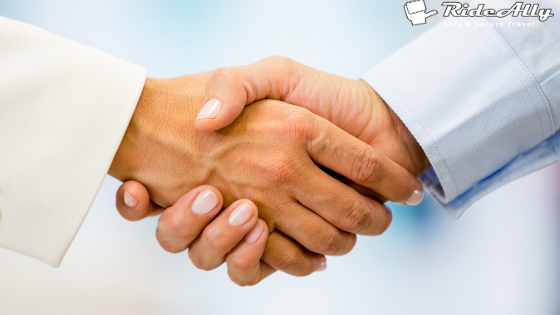 Refer friends to RideAlly and get 50 points (equivalent to Rs 50). No limits on referrals. What more? Even referred person gets 50 points (equivalent to Rs 50).
Use these points to travel in any kind of cabs in 13 cities. No expiry date.
We are thankful to you for recommending RideAlly so far even without getting any benefits however its our duty to recognize your help whatever little it may be. We understand that the referral amount is quite less, nonetheless, it's our token of appreciation for your support.
Excited!! Like to know how to refer and how to use? Read on..
How to refer?
Open App -> Click Menu -> Choose "Refer & Earn" -> Click on 'Refer Friends' button -> You would see various options to share e.g. WhatsApp, Twitter, GMail etc
Select the option with which you wish to share, e.g. you can share using Whatsapp on groups, friends etc
It would generate a message with referral code which your friends, colleagues or contacts need to use while Signing Up
Once your connect downloads the RideAlly app and enters Referral Code during Signup and completes the process, you and your connect both will get 50 Reward points
These points can be used while Booking any kind of Cabs anytime.
How to use Reward Points?
While booking a cab, you will get an option 'Use My Rewards' below the Vehicle list in case of bookings within City (Airport, Point-to-point) and below 'Pricing' in case of Package and Outstation
You may need to select the checkbox to use the Reward points
You would get whopping 10% discount on the booking (excluding Toll, Parking, Permit charges) by using reward points. E.g.

If you have 500 reward points, and your booking amount (excluding Toll, parking, permit) is 1000 Rs than you can get a discount of 100 Rs.
If you have 80 reward points and your booking amount (excluding Toll, parking, permit) is 1500 Rs. then you can get a discount of 80 Rs.

If you cancel the booking later, your reward points will be credited back to you.
As always, Service quality is ensured. No Cancellation of cab bookings. No surge pricing. Best Covid measures taken. Please continue referring..