Share ride with pride – Carpool Legally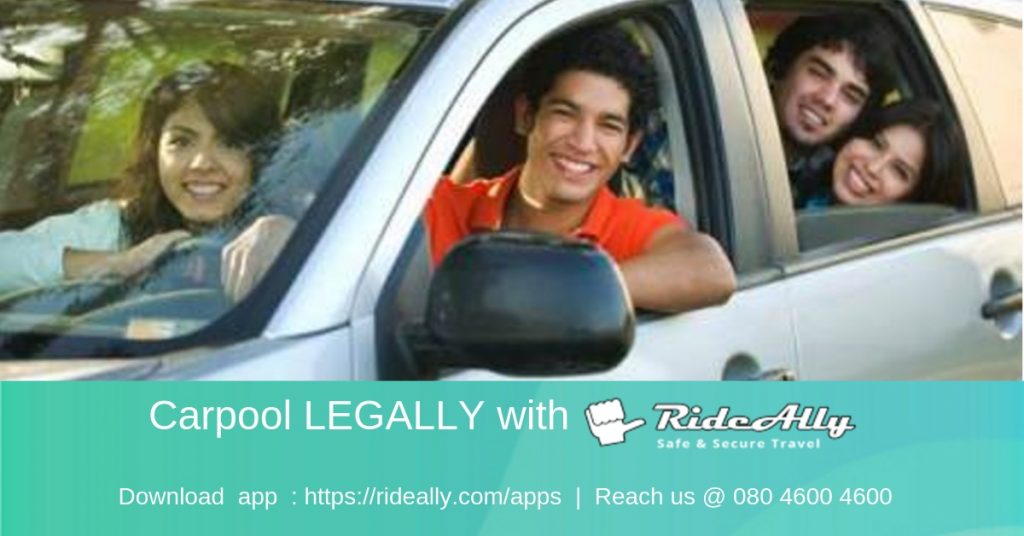 RideAlly is committed to making carpooling a peace of mind affair in the cities bustling with heavy traffic. The volume of traffic and frequent congestions are a nightmare for the people requiring a daily commute.
We at RideAlly, congratulate those who have opted to carpool on a regular basis. They deserve a pat on the back for choosing to carpool. Their simple realization that "I'm the Traffic" and "I'm the Polluter" has led them to own the solution by carpooling or traveling in public transport.
According to the Motor Vehicle Act (1988) and the latest amendment in the year 2019, one cannot share their private vehicles in the name of carpooling to exchange money or reward or fuel. Only Yellow board registered vehicles (with appropriate permit) like the cabs and autos can earn money for the ride given to others.
In fact, any kind of reward for sharing the ride in a private vehicle is not legal. So, to abide by these laws and continue to carpool is a true reflection of contribution to society. This is a way of sharing the car or bike with the neighborhood acquaintances or colleagues to reach the same destination without any reward in return.
RideAlly provides a platform for such car-poolers to get in touch with each other. With the help of RideAlly, one can carpool on the legal terms without having to worry on safety and security. Vehicle owners cannot share cost in any way through our app, like, we do not charge our friend or colleague (or an ally). RideAlly also does not charge anything if one wishes to share their car or bike. Same time, ride takers get a ride for free. We are proud to say that our car-poolers are joining hands with us to uphold the values of the legal system of our country.
There are other carpooling apps which allow the car-poolers to earn money for sharing the rides. The common man is attracted by the deals offered by such apps to opt for the services provided to them. It is against the law when it clearly suggests the whiteboard registered vehicles cannot make money (or share cost in whatever form) for sharing ride with others.
Carpooling is a choice indicating our responsibility towards society. Adhering to the legality of the country along with saving the city from pollution makes the carpooling efforts of RideAlly users a tiny step towards a better nation.
RideAlly is associated with Govt. and NGOs to bring clarity on carpooling. The CEO recently attended a roundtable organized by BPAC on 6-Sep-19 to discuss "Sustainable Mobility at Bengaluru" and it was made clear to all that sharing cost is illegal. RideAlly has worked with IAMAI in past and has submitted papers to influence decision making. Find out more at http://blog.rideally.com/is-sharing-cost-on-personal-vehicles-legal/
Last but not least, we understand that it's difficult to have laws to enable cost-sharing on personal vehicles even in the next few years hence we strongly advise commuters to adhere to legal ways of carpooling.